Writers Revealed 10.7.07 Serial Killers & Free Books!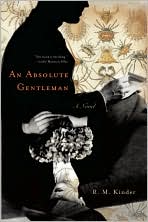 An Absolute Gentleman
is fiction, the memoir of self-confessed serial killer Arthur Blume, in prison for killing twelve, perhaps seventeen, women. He wishes to correct the media's distorted view of him and his mother. He juxtaposes memories of his childhood in the hands of that loving, but psychotically cruel woman, with his more recent history as aging writer and itinerant instructor, and with observations about the nature of the world—no place for any creature. Offhandedly, he slips in horrors, some of which he endured, and others, perpetrated. While he's a nice guy, champion of the insulted and outcast, he is also a monster who will, most certainly, strike.
Arthur Blume took shape from my association with murderer Robert Weeks in the mid-eighties, from lengthy research, including consultations with police officers, detectives, and psychologists. The Afterword to
An Absolute Gentleman
answers some anticipated questions about the inspiration for this novel.
About the Author
: Rose Marie Kinder, who writes under the pen name of R.M. Kinder, won the 2005 University of Michigan prize for a collection of short stories titled
A Near-Perfect Gift
. Another of her short story collections,
Sweet Angel Band
, was awarded the Willa Cather Award in 1991. R.M. Kinder's prose has also appeared in
Other Voices, Short Stories
, and
The New York Times
. She holds an MFA and Ph.D. from the University of Arizona and currently resides in Warrensburg, Missouri.
Essential Links
Visit R.M. Kinder's
website
BookStandard Review
Buy the Book!
Want to score a copy of An Absolute Gentleman? Leave your question for the author here, and if I use it on air, you'll receive a free book!